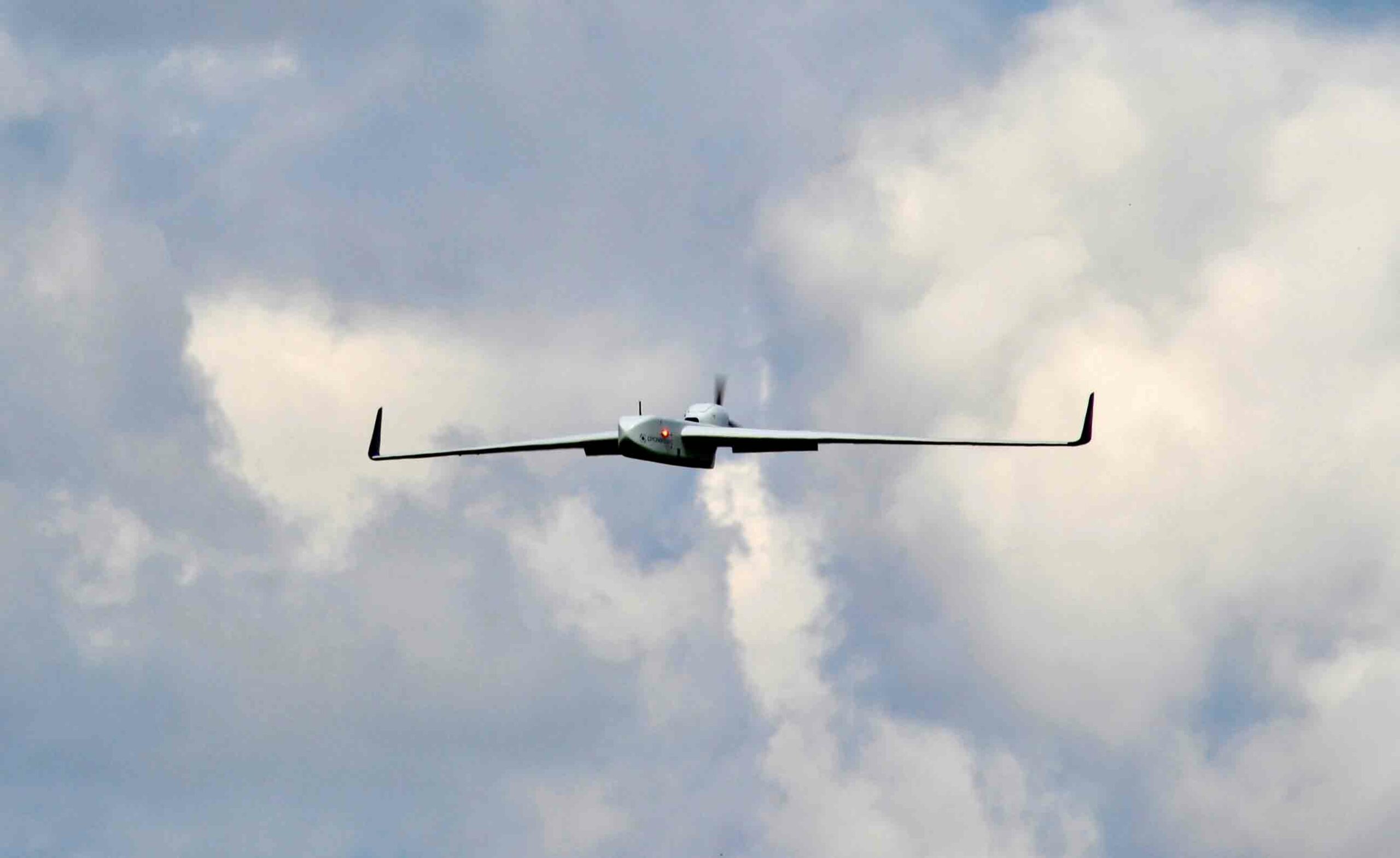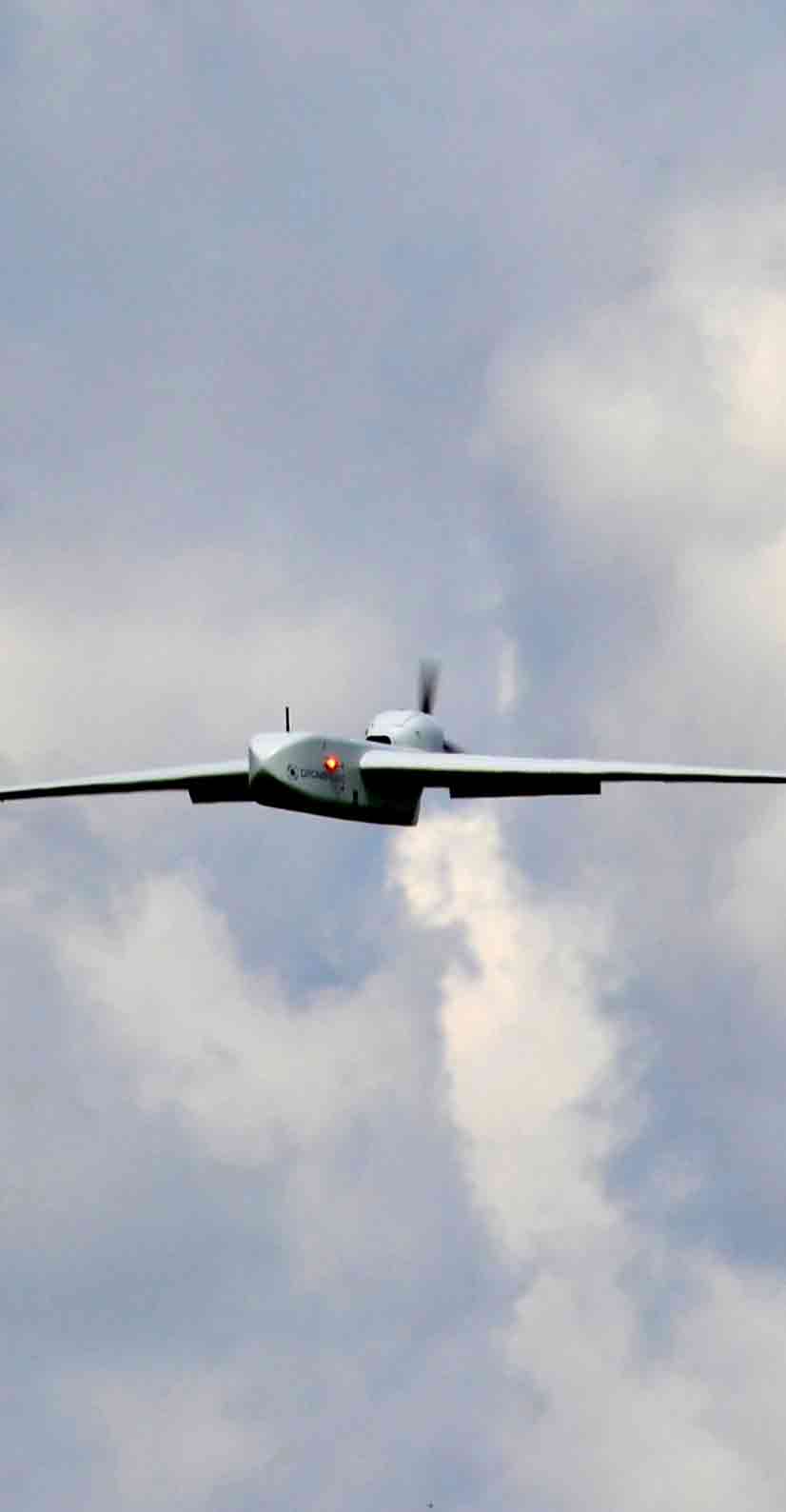 A UAV specialising in surveillance and reconnaissance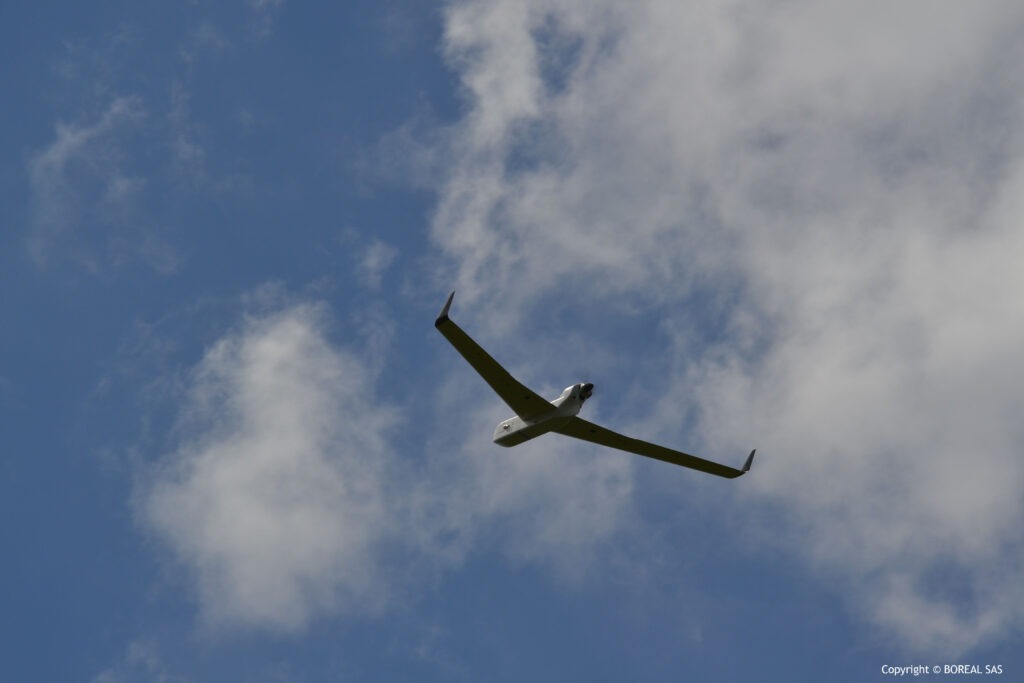 A discreet unmanned aircraft vehicle
The BOREAL ISR UAV enables the execution of discrete reconnaissance and surveillance missions on sea or land, utilizing visible E/O HD or Infrared (IR) sensors. Equipped with an on-board gimbal camera, it provides a 360° day/night vision. This UAV is efficient for both marine and terrestrial operations, and provides real-time monitoring of the area with the highest level of precision.
VALIDATED SURVEILLANCE PAYLOADS

Gyrostabilized Turret - MERIO TEMIS XL16
Weight: 1800g
Height: 234mm
Min diameter: 105 mm 
Max diameter: 160 mm
Pan: 360° / Tilt: 360°
IP rating: IP64
DRI (Detection/Recognition/Identification)
Cargo ship, Cruise ship: <15000m / <4000m / <1500m
Commercial fishing vessels: <6500m/ <5500m/ <1000m
Sailing boat / traffic boat: <6000m/ <5500m/ <800m
 Between 1000 and 3300 ft (800 and 1000m) and in standard weather conditions.

Gyrostabilized Turret - MERIO TEMIS XL
Weight: 950g
Height: 182mm
Min diameter: 85 mm (main body)
Max diameter: 127 mm
Pan: 360° / Tilt: 360°
IP rating: IP64
Man DRI (Detection/Recognition/Identification): 1,029 m / 309 m / 218 m
Vehicle DRI: 2352 m / 738 m / 409 m

Gyrostabilized Turret - MERIO TEMIS XL14
Weight: 1300g
Height: 209mm
Min diameter: 85 mm
Max diameter: 140 mm
Pan: 360° / Tilt: 360°
IP rating: IP64

Gyrostabilized Turret - ASIO 155 
• Innovative 3-axis stabilization system
• Day and night sensors
• Integrated video processing:
Stabilization
Deinterlacing
Super-resolution
target detection
Click and follow
Inserting metadata
A RPAS adapted to your needs
With its endurance capabilities of up to 8 hours and a maximum altitude of 1500m (4,921 ft), the BOREAL ISR UAV allows you to view overflown areas in real-time and with complete discretion. It is suitable for numerous safety and security applications at sea and on land, including securing exceptional transport and communication channels, monitoring infrastructure, and detecting forest fires, among others. It is also used for missions to protect terrestrial and maritime fauna and flora, such as monitoring dolphins and whales.
The aircraft, catapult, and ground station system can be easily deployed in less than 30 minutes on any type of terrain, including isolated areas, and are infrastructure-free.
Our BOREAL GROUND CONTROL STATION (BGCS) features IHM software that enables precise monitoring of the aircraft's evolution and visibility on all telemetry parameters. The C2 real-time link concept allows for direct action on the flight plan to ensure agility in conducting the mission, such as ship tracking, holding pattern, and waypoints. Additionally, our system offers the ability to send the UAV observation video stream to a remote command center located far away from the control station.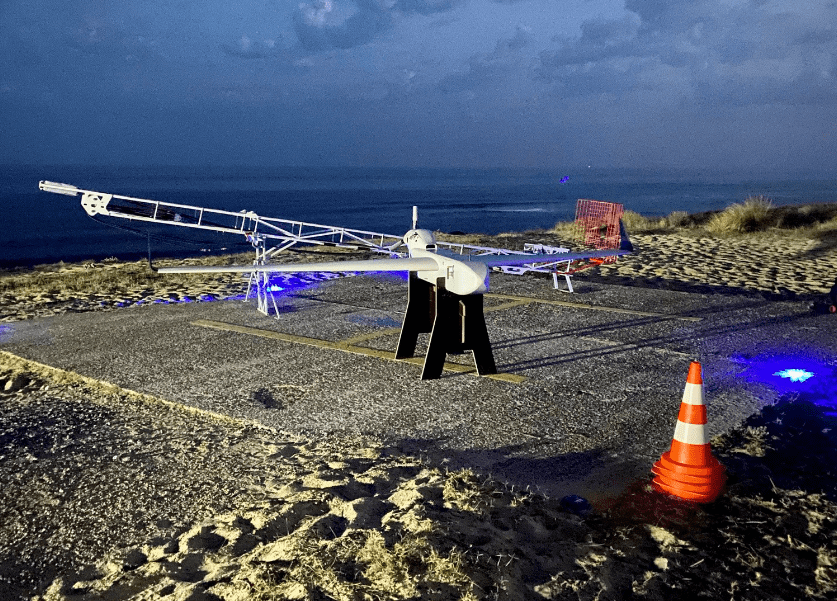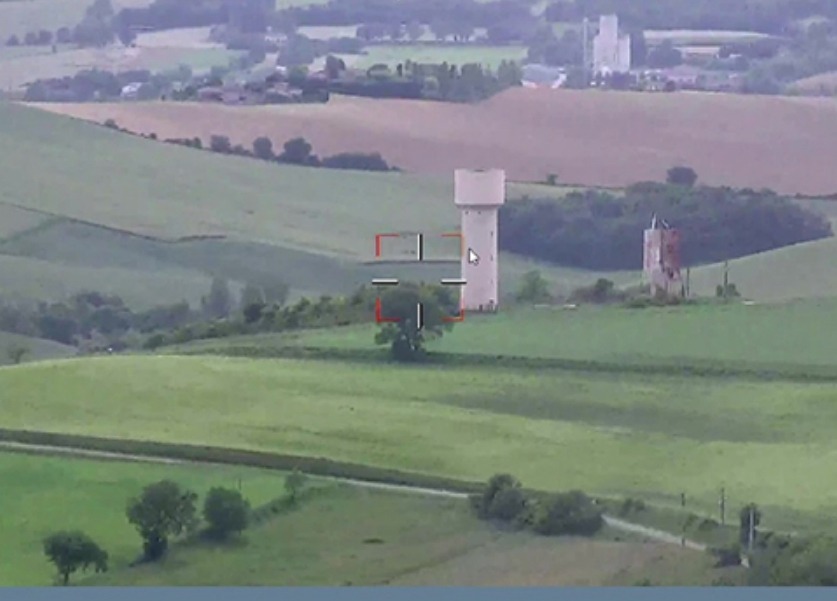 There is no other surveillance solution like it on the market.
Our BOREAL ISR UAV is certified "Origine France Garantie" ("Guaranteed Origin"), which distinguishes it for its high elongation and long-range performances, making it unique in the French and international market for maritime and land surveillance. BOREAL has been trusted by various institutions, including the French General Directorate of Armaments, the French Navy, and the French Maritime Affairs Directorate, for their territorial protection needs.
The CNES CESARS center provides technical support to BOREAL for the integration of satcom equipment into the ISR drone. The validated concept will make it possible to operate the drone at its maximum distance, beyond radio visibility, thus opening up new markets.
Sandra DUSSÈS
Satellite telecommunications engineer
CNES
Are you looking for a UAV solution?
We are available to work with you to determine the most suitable solution according to your needs.